Our Carts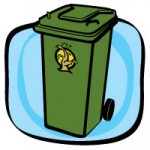 Our carts are the same as those used by many municipal waste and recycling programs, specifically designed to work with the lift system fitted to our trucks. We offer two sizes:
Large Cart:
Ideal for regular to large yards or sharing (i.e. condos)
360-Litres (95 gallons)
24" wide x 35" deep x 43" high
Small Cart:
For household waste only or households with very small yards
120 Litre (32 gallons)
19" wide x 22" deep x 37" high
Cart Features:
Easy Portability – Large integrated wheels make it easy to move the cart anywhere in your garden.
Pest-Proof – Secure lids and smooth wall construction means pests cannot get in.
Strength, Durability & Appearance – Easy to clean, wind proof, and heavy duty, the carts will stay neat and tidy in your yard.
Reduced odour – Snug-fitting lids keep green waste sealed and dry, helping to reduce odours.